The Most Affordable Colleges in the US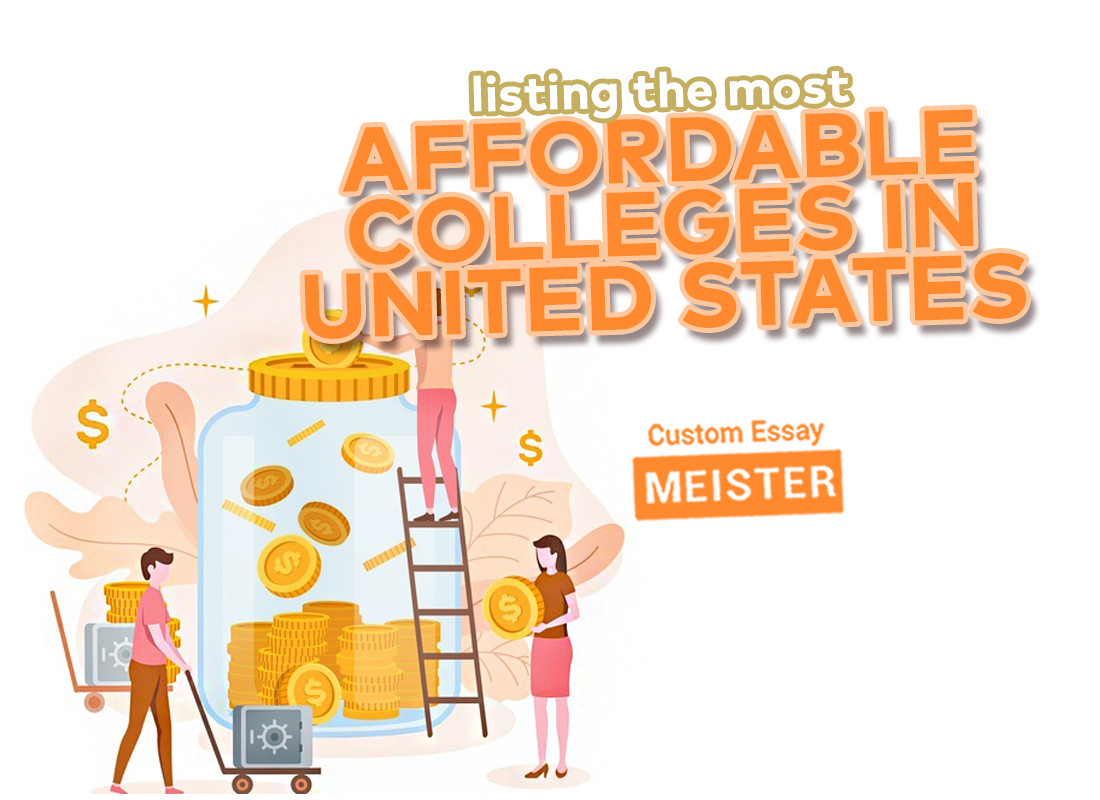 The benefits of going to college are known. As a graduate, you will be given the opportunity to access jobs with better salaries, and even more opportunities to advance in your chosen career path . Despite the obvious benefits it brings forth, the cost of college remains to be the biggest factor why most do not go through with it. Research has shown that there has been an increase in tuition fees at four year public colleges by over 100 percent since 2001, while U.S. News and World Report indicates a 200 percent increase in college tuition over the last 20 years. With all these information to consider, we can conclude that tuition fees will only see an increase in the coming years, which, of course, includes the situation on the US Education System . Unfortunately, the effects of this rising prices are directly proportional to the exponential rise of student debt. There has been an increase in the total student debt in the last 10 years and has tripled to an amount of $1.2 billion dollars.
While college is indeed deemed necessary, especially now more than ever, the increasing costs almost makes it impossible to attain for students. The increasing costs becomes a burden. It is important, then, to consider the costs and attempts to mitigate portions of these prices when looking for colleges . Perhaps you can look at reduced tuition fee rates for in-state students, or even free courses. Scholarship grants are also worth looking at, as well as the what the college offers – surveying its the qualities of faculty teachers, facilities, programs, campus life , and everything else it can offer helps you ensure that you get value for your money. More than being an affordable school, you need to make sure that it equips you with what you need for the future. Without further ado, here are some of the most affordable colleges in the US:
Binghamton University
As a school located in Vestal, New York, one would think that Binghamton University is beyond budgets. It is actually a public research university, boasting of a campus of 182 acres of nature preserve. It is also home to the Adventure Resource Center and Outdoor Pursuits program. With over 141 programs for undergraduate studies and 106 for postgraduate, Binghamton University attracts students from all over the world. It also emphasizes inclusivity, under the motto "All are welcome" – the LGBTQ, persons with disabilities, every race, and every religion are made to feel at home in the campus.
University of Minnesota – Twin Cities
The University of Minnesota has campuses on both Minneapolis and Saint Paul, where it earned the name Twin Cities. Being a public research university, the most popular majors are the social sciences, followed by biological and biomedical sciences. Engineering, psychology, and business are also looked into by students. Located on the banks of the famous Mississippi River, the university boasts of a community rooted by agriculture and history. A diverse environment, the university promises an experience of growth and community to its students. Founded in 1851, the university is considered a Public Ivy school – the University of Minnesota is organized into 19 schools, colleges, and other major academic units.
University of Georgia
The University of Georgia has a colorful history within its walls. Founded in 1785, this university was the very first public and state-chartered college in the U.S. Sixty miles away from the capital Atlanta, the school is located in Athens, Georgia, which is composed of beautiful architecture that perfectly blends modern and classic. The oldest building in the campus dates back to 1806. Being an institution, the University of Georgia is home to 17 schools and colleges, all of which offer comprehensive programs, both undergraduate and graduate.
California Polytechnic State University
Popularly known as Cal Poly, the California Polytechnic State University is a public university located in San Luis Obispo, California. Its location is halfway between Los Angeles and San Francisco, both of which are ranked as one of the happiest cities in the United States. Cal Poly is known for its programs and majors like Engineering, Business, Management, Marketing, Agriculture, Agriculture Operations, Biological and Biomedical Sciences, and Social Sciences. As an institution committed to service and education, the university and along with its alumni, created the Cal Poly Cares, a scholarship program that allows students with financial difficulties to pursue higher education - that personal statement will be worth it! Furthermore, Cal Poly has the Hunger Program, which is committed to making sure that students get nutritious meals every single day of their college lives.
James Madison University
The university is named America's fourth president, and is located in Harrisonburg, two hours away from Washington, D.C., the nation's capital. If you are looking to major in political science, James Madison may be the best option for you, as its close proximity to the capital allows students to participate in the Washington Semester. Here, students are encouraged to work in D.C. to gain experience through a semester-long internship. The school also values a robust student life, where organizations of various kinds are allowed to thrive for a holistic college experience. It is also regarded as #1 Best College for Employment in Virginia by the U.S. Department of Education statistics compiled by Zippia.
Miami University
Located in Oxford, Ohio, Miami University offers both undergraduate and graduate programs to more than 25,000 students. Enriched with a long history of being the second oldest university in Ohio, it is known for its courses and programs in the liberal arts, so much so that it offers 120 bachelor's degrees and 60 graduate degrees. The campus is composed of 8 colleges and schools in Humanities, Engineering, Business, Architecture, and the Arts. Moreover, Miami University is ranked among the best national universities for undergraduate teaching. They also excel in sports, and their athletic team, the Miami Redhawks, continue to compete in Division I of the National Collegiate Athletic Association (NCAA). If you're looking to get a sports scholarship, Miami University may just be for you!
University of Illinois
Located in Chicago, Illinois, the University of Illinois at Chicago is home to over 30,000 students annually. It is a public research university and is the largest university in the area, offering more than 80 bachelor's, more than 90 master's, and more than 60 doctoral degrees. It is estimated that 1 in 10 Chicago residents has earned a college degree in the school and is considered a valued alumnus. UIC is best known for its medical school, and it operates as the largest medical school in the nation. Research expenditures of the UIC College of Medicine exceed $412 million.
University of Delaware
The University of Delaware is located in Newark, Delaware and provides more than 135 undergraduate degrees. Regarded as a public research university, UD receives public funding for being an urban, space, sea, and land-grant, state-supported research institution. The university is composed of seven colleges and more than 80 research institutes and centers – this makes it as one of the top schools for studies in interdisciplinary ingenuity, as well as science and engineering along the fields of human health, environment, and energy science and policy. Graduate students can choose from various programs such as master's, doctorates, online programs, dual degrees, interdisciplinary degrees, and even certificates. It is committed to leading their students to success and preparation to thrive, which they are able to prove through statistics: over 95% of UD grads are either employed or pursuing further education, in just 6 months after earning a bachelor's degree. Their national average is at 84%.
University of Alaska – Fairbanks
The University of Alaska - Fairbanks is located in Fairbanks, Alaska and is a space, sea, land-grant institution, as well as the flagship campus of the University of Alaska System. With over 190 degree programs available, it is home to several research units, all of which were built due to its unique location near the Arctic and other northern research demands. The university is known worldwide in disciplines such as supercomputing, geophysics, Alaska Native studies, Arctic engineering, and Arctic biology. Due to its astounding credentials, the school attracts both students and professionals from all over the world. UAF is also committed to diversity and inclusivity, boasting of more than 100 student organizations and clubs, one of which is their nationally acclaimed sustainability program.
University of Louisiana-Monroe
The University of Louisiana-Monroe was founded in 1931 and is situated in the lush and scenic Bayou Desiard, allowing the campus to flourish in a 238-acre land. It is known for its small class sizes and over 90 undergraduate and graduate areas of study, which includes biology, risk management, atmospheric sciences, and nursing. ULM is an accessible and affordable university, with nearly 48% of incoming students being grant scholarships. Moreover, the university is open to international students through the ULM Online, offering bachelor's, master's, and doctoral degrees. The best part is that ULM does not charge out-of-state tuition fees for online learners outside of Louisiana.
Bonus school:
Harvard University
Harvard is perhaps the most well-known university in the U.S., and it is also the oldest. Founded in 1638, it preceded American independence! It is located outside of Boston in Cambridge, Massachusetts. This Ivy League school is ranked as #1 by the Academic Ranking of World Universities, and #2 by U.S. News and World Report's National University Rankings. Its excellence and unparalleled grasp of knowledge is what made Harvard what it is today, boasting a collection of celebrated alumni including eight U.S. presidents and 62 living billionaires. Harvard also holds the title of the most Nobel Prize-winning affiliates in the world. Being a prestigious school, you may be wondering why we have decided to include Harvard to our list. Being an Ivy League school, this means that Harvard values knowledge and education above all else, no matter your background. If you are worthy, you are worthy. This is why Harvard gives out financial aid to local and international students annually, reportedly giving grants to over 600 students last year.
Education is the key to a bright future , they say, so pursue it without hesitation. The talk of finances is an important aspect to choosing college prospects, yes, but make sure that you will receive your money's worth. As you craft your college list , remember this: how can a degree on a piece of paper be valuable if you have not grown to the best of your abilities? Pursuing college should be more than just reading books and memorizing for tests – it is learning values, meeting new people, and discovering the best version of yourself. So, if you are in the search of the most affordable colleges in the US, make sure to consider the universities we have listed above – they are committed to your growth!
Essay writing service for college students
Part of your admissions preparations will be personal statements. Unfortunately, not everyone has the time and head space for such tasks - so much pressure relies on those written college essays! CustomEssayMeister, however, has been around since 2006, dedicated to helping students like you. As an essay writing service, we are dedicated to your growth, original written outputs, and superb service. Our professional writers can also write research papers, dissertations, and thesis papers, should you need it! Contact us now for more information!