The Best College Dorm Meals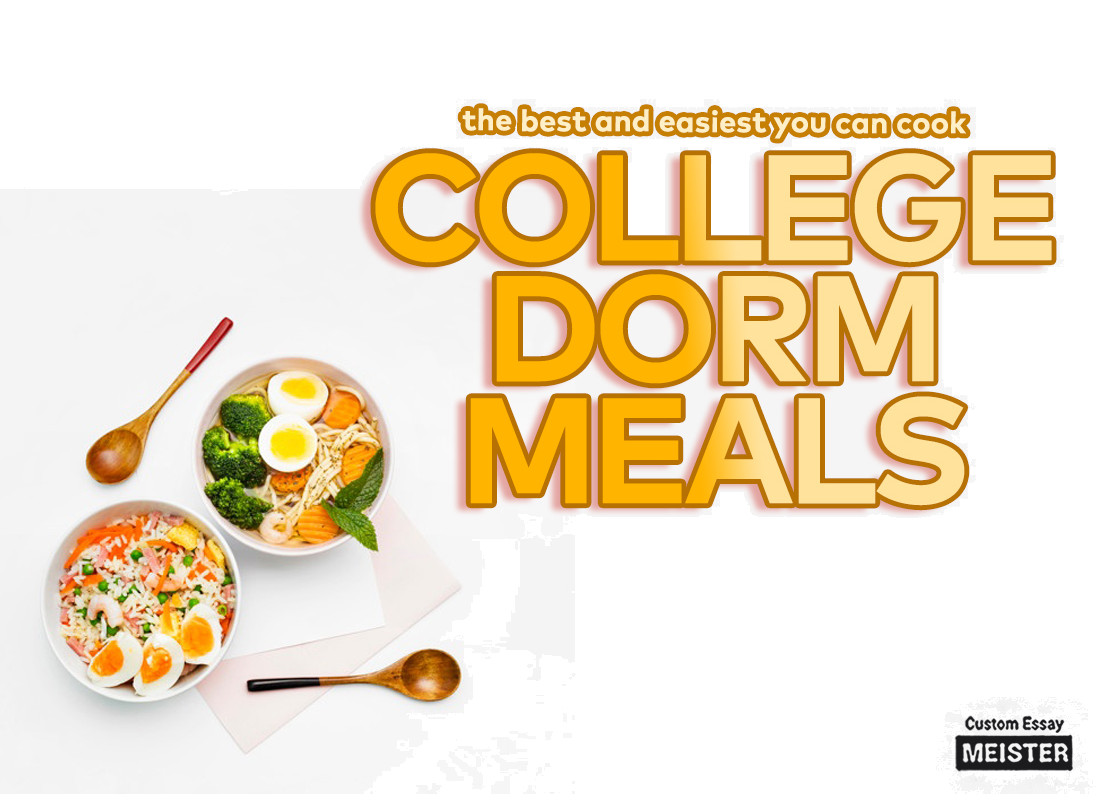 There is nothing like college life, you think to yourself, as you slurp your 3rd bowl of ramen for the day. Mushrooming student debts and ways to avoid it , the worrisome mystery of your graduation time, close to zero sleep, endless parties and ensuing hangovers, and of course, the less than ideal college dorm meals. You would rather be eating anything other than this bowl of ramen, so filling yet to nutritionally empty – heck, even a half-hearted peanut butter sandwich would be better than consuming this pack of sodium. Although colleges have been improving meal plans in the recent years, it does not necessarily follow that yours have, too. Or if it has, the cafeteria food can sometimes be expensive, and what you eat on a daily basis in the confines of your dorm room is what matters. According to studies, the average college student does not even eat a single serving of fruit and vegetables daily. With nutrition greatly compromised, failure is sure to come. You have already asked for some narrative essay help - chances are your body and overall health are screaming for some assistance, too.
You need to give what your body needs, and if the dining hall will not do, you have this little savior sitting patiently in your room – your microwave. Pair it up with a knife and a cutting board, then you're all set! Here is a list of some of the easiest recipes out there, perfect for the on-the-go college student like you. Say goodbye to those ramen packets (and empty calories) and get (relatively) healthier!
Breakfast
Breakfast is the most important meal of the day, they say, and indeed it is – unless you are recovering from an all-nighter, as your wake up time may be pushed a little close to noon. All-nighter of alcohol through a college party or study session, you decide. In any case, it is important that you get your digestive system started, so here are some easy breakfast recipes!
Eggs are an essential part of your mini pantry, as they are both cheap and healthy. Eggs are liquid meat, a nutritionist can tell you. Versatile as meat as well, as a chef can tell you. If you have had enough of plain old scrambled eggs, spice your recipe up with some scallions, tomatoes, and cheap meat of choice. It could be bacon or ham, so long as you add more nutrition. Mix them all together in a mug, drop some oil and butter and then microwave!
This food item breaks the microwave rule, but there's bound to be a toaster somewhere in your floor, right? Even without it, avocado on bread can still be enjoyable. It's cheap and easy, and customizing it however you want it possible! An avocado toast breakfast enjoyed in the comfort of your college dorm room goes a long way. Why? Avocado is a "superfood," no pushover when it comes to calorie content and the energy that it provides, direly needed by the undernourished college body. A college dorm meal extraordinaire, if you will.
Breakfast Cookie in a Mug
Cookie for breakfast, you read that right. It may sound complicated and so light, as cookies usually undergo through an equally complicated process of baking. While it may not be the cookie you are used to, this meal is just as tasty and nutritious. Base ingredients include peanut butter, bananas, and oats.
If you are suffering from a serious case of A.M. classes, then these overnight oats are the perfect remedy. They are so easy to do, and with a ton of different combinations possible, you would be happy to have them every single day. The base starts with rolled oats and almond milk, and from there you can mix in some fruits, nuts, some spices like cinnamon, and even protein powder.
You do not have to spend chunks of cash just to get your hands on this coveted brunch meal. In just two minutes, you will have your very own French toast. Instead of letting that loaf of bread go stale, stuff them in your mug, add some eggs, milk, cinnamon, and vanilla and heat away. Be warned, though – the alluring cinnamon aroma just might attract your entire college dorm floor.
Lunch and Dinner
Breakfast food is good, but eating it all day every day makes it lose its magic, its flavor. Main course meals are the ideal, but why do they have to be so expensive, you sigh and sulk. Your lunch and dinner does not have to be expensive, and there is so much more your microwave can offer - so think again!
No, you do not need a stove to get the perfect risotto. It is trickier than the rest of the recipes listed here, but it is well worth it! Mix in ½ a tablespoon of olive oil, ¼ cup of rice, some spices and 2 tablespoons of water or broth to a mug. Cover with a plastic wrap and cook for 2 minutes. Stir the ingredients to make sure that it is evenly cooked, and then cook for another 2 minutes. Add liquid as necessary, and after 4 minutes, add some wine if you are feeling fancy! Frozen veggies are all much welcome, heat for another 2 minutes, and add some cheese. Gordon Ramsay who? Among the best college dorm meals you can prepare hassle-free, risotto is practicality and elan at the same time.
Not normally included in run-of-the-mill lists of college dorm meals, but can you be blamed if you have that sudden craving for burritos? No problem, as there is no need to go to Chipotle and waste your dollars for a lackadaisical burrito. Mix in a cup of canned beans, microwaveable rice, pico de gallo, and then top with cheese. It is tasty and vegetarian-friendly, and you can even level the nutrition up by switching to brown rice.
This classic dish does not need a recipe, and the best part of it is you just know it will fill you up. Just microwave your potato until it softens, and then add fillings of your choice. For a healthier take, sprinkle some olive oil, butter, sour cream, pepper, and season with salt and pepper. Baked potato, for all its earnestness, should be a staple of the college dorm meal menu.
Burrito but no quesadilla? Fret not. A simple quesadilla goes by the classic cheese and tortilla wrap, but you can up your game by adding some veggies! Canned corn is the way to go, but you can go ahead and add some spinach and peppers. Top with salsa and avocado, and you will surely kiss those ramen packets forever. A college dorm meal that can be enjoyed by you and your dormmates, (hopefully) despite your dorm differences.
Alright, we take it back. But then again, ramen can be good, too. Tap into your creativity. Instead of eating them the traditional way, experiment with a little Asian fusion and make yourself some pad Thai. All you need to accompany your spice packet are some fish sauce, peanuts and fresh lime. Talk about impressive ramen hacks!
Snacks
As a college student juggling classes and social lives, you will need extra pick-me-ups as you race against time. Here are some college dorm snack recipes:
This is probably the easiest to do, as you only need to pour trail mix and M&M's in a single container! They are the perfect combo for a sweet and salty snack, but do not overindulge. Save them for the most stressful days. A good college dorm meal when you are pulling those all-nighters.
Nutella is not the healthiest thing out there, but let's face it - it is irresistible. Ditch that plain combo of bread and Nutella, and make yourself some energy bites. Mix it with oats, flax seeds, coconut flakes and some agave. Roll it into balls, and you are now equipped with portable fuel. Snack on it as needed!
Microwave Sweet Potato Chips
Sweet potatoes are just that – naturally sweet, so you will not have to do much. Just add a little bit of rosemary, salt, and pepper. Make sure to slice thinly, though, and then place them in the microwave until they turn crispy! They are infinitely better than your soggy and somber cafeteria fries.
Your college life does not have to be that unhealthy. Sure, you are barely getting any sleep and your stress levels never seem to go down, but that does not mean you should be abandoning your healthy and affordable eating habits, too. Doing these can help you avoid the Freshman 15 (which exceeds beyond freshman year). While eating ramen is alright from time to time, make sure to up your college dorm room meals with the food recipes listed above. If you are still scared to even try to spark a fire, go ahead and find the hideout of the cooking club in your school!
Essay writing service for students
The amount of work will never cease, so as you try and prepare healthier meals, think of getting help! There are plenty of online resources out there, but CustomEssayMeister may be the best one for you. Our talented pool of writers are sure to give you quality papers, from the simplest essays down to complicated dissertations!