Most Affordable Colleges in 2020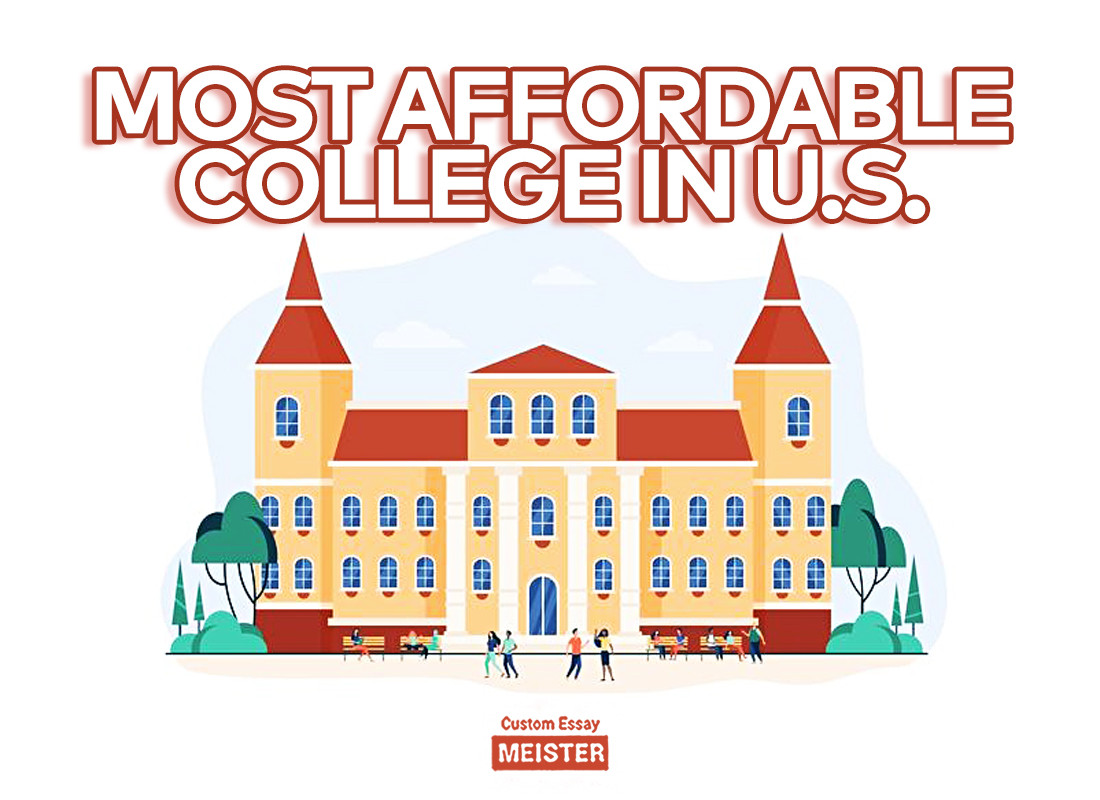 As we welcome a new year, many students are entering into the year they finally graduate from high school and will enter their years in college. Likely, most of these students have already chosen a college they will attend and a major they want to take, but some are still trying to figure their way around college preparations.
A lot of things can hinder a student's chances and opportunity to prepare their move to college, one might be the incessant assignments and exams they need to finish before they graduate. Others are still unsure of what they want to pursue or which college they want to attend. Meanwhile, some students have a hard time preparing for college because their parents can't afford it.
It's common knowledge that college is the most expensive part of a child's education, and every parent starts earning for their child's college costs even before they're even born. As parents, college is the education they want for their children to ensure they gain the best training once they are ready to enter the real-life of adulthood. However, not everyone is blessed to be from a well-off family or have the means to earn enough money for college. Some children are left with no option but to skip college and begin working right away. Luckily, there are affordable colleges that many students can go to without sacrificing the quality of education they will receive. Alternatively, students can also apply for scholarships and financial need assistance to help fund their college education. Students can also apply for student loans , but they will have to dedicate large sums of their salary to pay it off once they're finally earning their own money, and most people would rather not be buried by debt.
In a previous post, we have enumerated the most affordable colleges in the US , but as times change and the cost of college continues to grow, there is a need to update the list. To help you with your college preparation despite the financial restrain, here is a list of the most affordable colleges in 2020.
Dakota State University
Dakota State University is located in Madison, South Dakota. It was established in 1881 as Madison Normal School. DSU prides itself as among the colleges with the lowest tuition among many states making is an affordable college for students. It offers a cost breakdown for fees, residence, and meal plans. It also offers a great online school degree programs. DSU is recognized for numerous achievements and some of its popular majors are tech-based, like Information Science, Network, Database, and System administration. Dakota State University also hosts the Smith-Zimmermann Heritage Museum and the Karl E. Mundt Library. It particularly houses four major academic colleges: the College of Education, the Beacom College of Computer and Cyber Sciences, the College of Business and Information Systems, and the College of Arts and Sciences.
Henderson State University
Henderson State University was founded in 1890 as Arkadelphia Methodist College. It is located in Arkadelphia, Arkansas. HSU is a public liberal arts university and is among the cheapest out-of-state tuition universities in the South. It caters to students who would like to major in business, liberal arts degrees, and psychology. It is accredited by the Higher Learning Commission and it's a member of the Council of Public Liberal Arts Colleges. HSU is recognized as one of the US' most affordable colleges.
LeMoyne-Owen College
LeMoyne-Owen College is located in Memphis, Tennessee, and was founded back in 1962. It was previously known for being a private black college and caters specifically for blacks and escaped slaves. It is recognized as a highly ranked and top regional college in the South. The residency plan is also affordable for out-of-state students. Among the key majors in LeMoyne-Owen College are Business Management, Computer Science, Education, Special Education, Biology, Sociology, and Social Work.
Thomas Edison State University
Thoma Edison State University is a small campus school in Trenton, New Jersey. It was founded in 1972. It also has a majority-online institution catering to the adult population. It mostly helps adults in the US or internationally to complete their degrees. It is accredited by the Middle States Association College and Schools. Many of its programs are designed for self-directed adult learners and can be accessed by anyone around the world.
Bellevue University
Bellevue University is a non-profit university in Bellevue Nebraska, and it opened in 1966. It is regionally accredited by the Higher Learning Commission and it has more than 50,000 graduates from around the world. It values diversity, accessibility, and world-class learning, making it perfect for out-of-state and even international students. Two of Bellevue University's popular majors are Business and Information Systems. Though it has online education, it prioritizes on-campus learning significantly higher.
Central State University
Central State University is located in Wilberforce, Ohio. It began operating in 1897 as a two-year normal and industrial department funded by the state. CSU has a strong liberal arts foundation and mostly fosters academic excellence through an open-access institution. It has quality education programs aimed to enrich learning experiences and educational opportunities for students in a multicultural and global perspective. It is accredited by the Ohio Department of Education, the North Central Association of Colleges and Schools, the Accreditation Board for Engineering and Technology, the many other prestigious institutions. It operates four major colleges: the College of Engineering, Science, Technology, and Agriculture, College of Education, College of Humanities Arts and Social Sciences, and College of Business.
Wayne State College
Wayne State College is located in Wayne, Nebraska. It opened as a State Normal School in 1910. WSC offers 130 different programs of study in Arts and Humanities, Business and Technology, Natural and Social Sciences, and Education and Counseling. It also offers online classes for out-of-state or international students. It is accredited by the Higher Learning Commission. Wayne State College is ranked #95 in the 2020 edition of Best Colleges in Regional Universities Midwest. It offers affordable college excellence for students and emphasized undergraduate teaching.
Mississippi Valley State University
The Mississippi Valley State University was founded in 1950 in Mississippi Valley State, Mississipi. It offers degrees in the College of Art and Sciences, College of Professional Studies, College Studies, and Graduate School. It has an honors program to cultivate its high-achieving undergraduate students on campus. MSVU is accredited by the Southern Association of Colleges and Schools Commission on Colleges.
Northern State University
Northern State University is located in Aberdeen, South Dakota and is governed by the South Dakota Board of Regents. It offers 38 majors and 42 minors. It is dedicated to the liberal arts and is recognized as one of the greatest institutions of higher education in the Midwestern US. It offers excellent degrees in business and elementary education programs. Most in financial need students find NSU as a hidden gem in South Dakota because of its affordable college cost.
Dickinson State University
Dickinson State University is founded in 1918 as Dickinson State Normal School and was granted full university status in 1987. It's located at Dickinson, North Dakota. It offers more than 75 fields of study through 10 academic departments. It further specializes in business management, teacher education, and nursing. Dickinson State University also offers a Graduate Course program in the field of teacher education. It's affordable college costs is notable because of its accessibility for out-of-state students with the option to take online coursework. It helps students to save money by staying at home or working while studying.
Southwest Minnesota State University
Southwest Minnesota State University is a public university in Marshall, Minnesota. It was founded in 1964. It houses two major colleges: the College of Arts, Letters, and Sciences, and the College of Business, Education, and Professional Students. It is accredited to give degrees by the Higher Learning Commission. Southwest Minnesota State University is at the top of the list of affordable colleges. It is a perfect school for students aspiring to be teachers in Elementary or Early Childhood Education.
Minot State University
Minot State University was founded in 1913 in Minot, North Dakota. It offers degrees in the field of Arts and Sciences, Business, and Education, and Health Sciences. It is fully accredited by the Higher Learning Commission. Minot State University houses the Gordon B. Olson Library. It is an affordable out-of-state college and is recognized by many journalistic resources as one of the top public colleges in the nation. The small classroom setup will allow students to develop professional relationships with professors and peers.
Allen University
Allen University was founded in 1870 and is currently located in Columbia, South Carolina. It is accredited by the Southern Association of Colleges and Schools. It offers arts and science degrees. Allen University is a private Christian school and for an affordable college cost, professors put extra effort into teaching students with manageable and reasonable coursework. Other popular degrees that can be earned in this university are Social Sciences and Biology, and Business.
Allow yourself to have decent options on your college list even though money is an issue. The quality of education should not be overhauled by costs. There are many universities and colleges around the country that offer reasonable prices for a bachelor's degree, and the good thing about modern technological advancements is that you don't have to look too hard. As a student in 2020, you have to be more cautious and deliberate in terms of your choices given the different sources you can use to cross-reference. With that said, as you pave your way to a more prominent future, make sure your choices are always aligned with your wants, needs, and capabilities. Do not be afraid to challenge inhibitions by exploring your options.
Essay writing assistance for students
Once you have a chosen college in mind, then the next steps to college application will become easier. Chances are getting accepted to one of the aforementioned colleges won't be as difficult as getting into Ivy League schools, but that doesn't mean you still can't go above and beyond with your college application essays or interviews. If you need help with your preparation, we might just be able to provide the assistance you need. CustomEssayMeister employs talented and expert writers who can write your admission essay for you. Give us the important details of your chosen essay topic, and we'll have it back to you within a reasonable time set by you. We have the support you need, so order from us and we'll write your admission essay together.