Get A Pro Essay Writer for your Essay Assignment!
Undergraduate coursework
Ghost Writing
We can write your essay per YOUR INSTRUCTIONS
We deliver your essay ON TIME
We pledge 100% SATISFACTION for your essay
Our website was launched in 2006. We have served thousands of clients worldwide.
We have written thousands of successful essays on almost any topic on a very short notice.
250+
American & British Essay Writers
We have an excellent team. Our essay writers are among the very best in the industry.
Who Are Professional Essay Writers?
Essay writers are academic ghostwriters for hire who write college essays or any other academic documents on demand. Among such, CustomEssayMeister has been in the academic ghostwriting business since 2006 and has grown a team of over 250 essay writers available on our web platform.
As hiring an essay writer has become a popular practice among college students, we have put together this piece to help those of you seeking academic assistance on your path to choosing an essay writer. A Google or Yahoo search will lead you to hundreds of essay writing services, and all of them will do their best to convince you they are the best custom paper essay service. However, only some of the services will be worth your cash, while the others will rip you off with an uninformative paper or a missed deadline.
So how do you find a well-educated, responsible essay writer online? Keep reading to get some tips and tricks as well as find peace with the idea of hiring one.
Signs of a Credible Essay Writer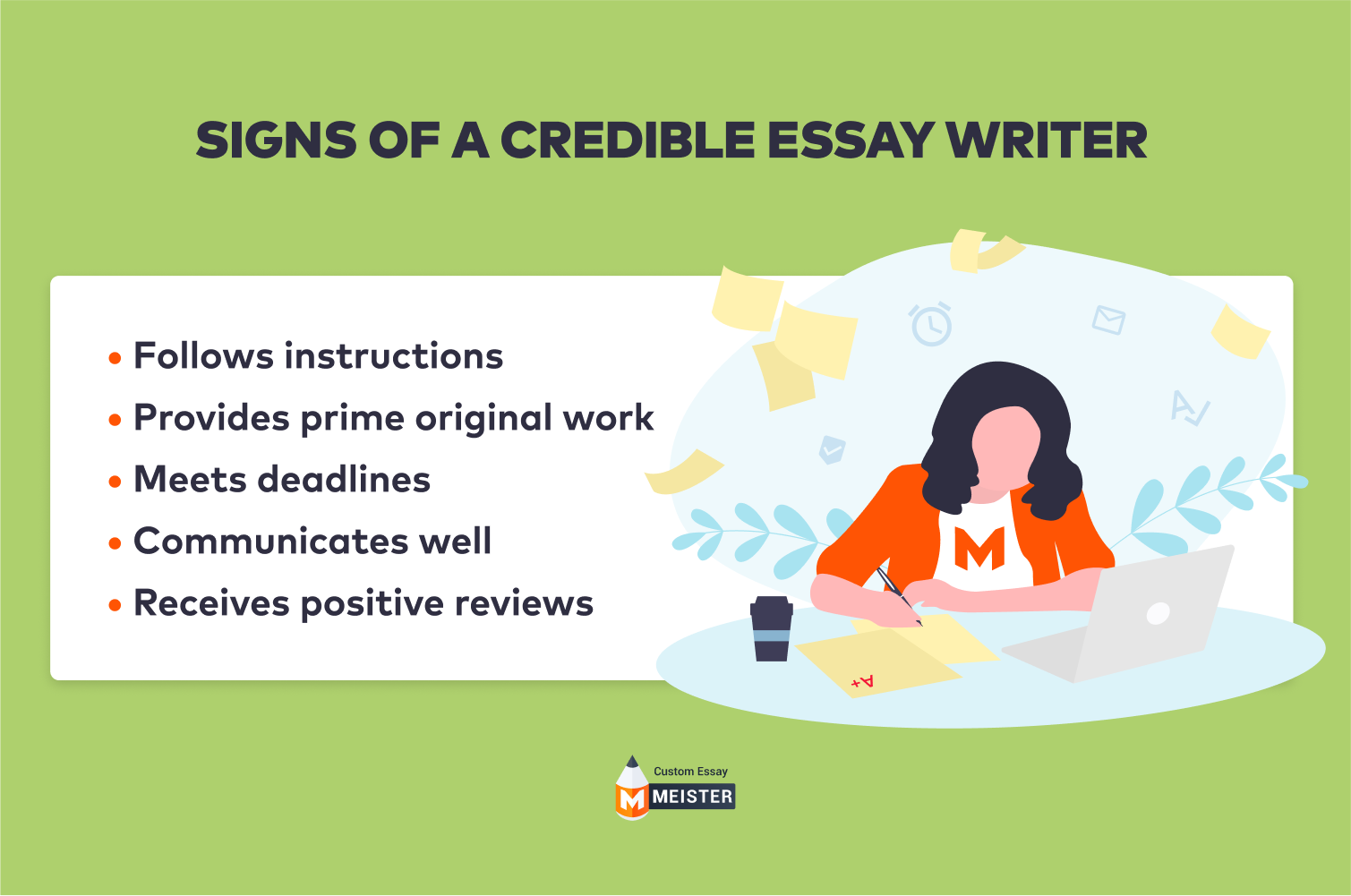 A credible writer should be able to follow your instructions, write original works, meet your deadline, communicate with you regularly, and should have a competitive rating from previous clients.
Most companies will tell you that their essay writers for hire are the best in the industry. But you should not take their word for it. Looking for the following signs will help you determine whether a custom essay writer is credible or not.
Follows instructions. A good writer has the ability to follow instructions. Good essay writers for hire know that they do not write for themselves but for other people

instead

. Their approach to custom writing, therefore, involves paying careful attention to their clients' needs. If your writer's output has obvious errors, such as incorrect answers or missing sections, it may be a sign that your writer is not competent enough to handle your order.
Provides original and high-quality work. Apart from following instructions, a credible writer also provides high-quality and unique work. Your essay should be written from scratch, which ensures that it does not contain any form of plagiarism. But more than that, the essay should have the marks of high-quality work, including appropriate discussion, correct structure and organization, adequate use of scholarly sources, clear and coherent flow, sound reasoning, clear and correct use of language, and accurate formatting.
Meets deadlines. The ability to meet a deadline is not just a sign that the writer is competent; it is also a sign that the writer respects the clients' time. Part of the agreement between a writer and a client is the date and time of paper delivery. The writer, therefore, should not be delayed, ask for

extensions, or submit incomplete work. A writer's credibility is exhibited not just by dedication to quality but also by punctuality.
Communicates well. Pro essay writers know how to communicate with their clients. For instance, a reliable essay writer responds to a client's questions. Such a writer also asks for clarification if the instructions are incomplete or unclear. Finally, a trustworthy writer promotes good relations with a client by being professional at all times.
Receives positive reviews . Another way of telling whether a writer is credible is by looking at reviews posted on your writer's profile page. Most essay writing services post clients' reviews on their page. Check the kind of custom essay reviews your writer receives. A bigger number of negative reviews than positive ones can be considered a red flag, while positive reviews confirm competence.
Deadline Approaching?
We work 24/7 and we are affordable (from $13.95/page). Our writers, managers and support agents all have been involved in academic ghostwriting for years. We can assist even with the most difficult writing assignment under time constraints.
Our writers will hit the bull's eye on your project!
The paper will be delivered on time!
100% authentic writing! No plagiarism!
Fast & secure ordering!
place an order
Availing the services of paper writers for hire can be risky if you know nothing about the quality of their work. So do not hire the first writer you come across on the Internet. Spend some time doing the research before placing an order. Look over the details of the writers you are considering hiring as well as the website itself. The few moments you take to check for the signs discussed earlier may spell the difference between hiring an excellent writer and a bad one.
Beware of Unscrupulous Essay Writers
While there are signs that suggest a writer can be relied on to complete your order, there are also signs that can help you weed out websites and writers that offer terrible services. In this section, we a closer look at them. If you encounter any of these, consider it your signal to move on to the next writer or website.
Poor client reviews. Do not hire a writer if he or she receives bad reviews. Negative reviews are an indication of terrible service.
Weak communication . If the writer does not sound professional, has multiple errors in his or her response, or is generally unresponsive, this could mean that he or she is not interested in working with you or capable of writing a high-quality essay.
Plagiarism . Plagiarism is a sure sign of terrible service. Any credible writer knows that a client should never receive a plagiarized essay because it endangers the client's academic standing.
Low-quality content. If a paper does not follow instructions or contains lots of errors, this means that the writer is incompetent. Poorly written papers may have one or more of the following: grammatical and typographical errors, illogical reasoning, missing sections, lack of sources, poor structure and organization, and incorrect formatting.
Unexplained delays. It might be time to find a new writer if your current writer keeps getting delayed or repeatedly asks for extensions without clear reasons why.
Excessively high rates. The rates of essay writers for hire should always be equal to the quality they provide. If a writer's rate does not match the quality of the essay, you may be falling for a scam.
As you can see, there are plenty of dangerous scenarios that can take place and waste your time and money. As an essay writing company, our mission has always been to protect our clients from the listed situations, and we have been successful in it for many years!
"Is it worth hiring a professional essay writer? – 100% yes, and we'll tell you why!"
Reasons to Hire an Essay Writer
Many students wonder if hiring custom essay writers is a good idea. After all, there are many websites and writers out there who are just looking for someone to rip off. But there are very good reasons why availing the services of essay writers for hire is the best option. Below are some of the benefits a student enjoys from hiring professional writers.
Lack of time. College is full of writing tasks. Every course, even the elective ones students take for extra credit, calls for at least a few writing assignments every term. These can pile up to a huge amount of work to do. The same dilemma faces working students: tired from spending hours working, they have neither the time nor the energy nor the will to write their own papers. In such cases, getting help from essay writers for hire becomes the most beneficial move.
Poor writing skills. Writing is both a skill and a talent, which takes years of hard work to develop. However, keep in mind that a student's lack of competence in writing does not necessarily translate to a lack of intelligence. Writing is also a passion. So, sometimes, hiring a writer is the only and most practical choice for those who struggle with writing. After all, professional writers have the competencies essential to writing academic papers, such as knowing how to evaluate sources and ways to avoid plagiarism.
English as a second language. Many immigrant students are not fluent in English

enough

to write their own papers. But remember that lack of fluency in English is not an indication of a lack of intelligence. Sometimes, it just happens that students have limited ways of expressing themselves in a language they did not grow up using. Buying a research paper is therefore the go-to move of immigrant students who are still learning English and do not feel confident writing an academic paper yet.
Burnout. The hectic college schedule often leaves no time for students to enjoy equally important things in life, such as friends, family, and hobbies. So, taking some time to rest is necessary, and it is good to know that there is a professional writer who can take care of your coursework while you recharge.
These are just some of the most common reasons why students look for academic help. In general, regardless of why you are thinking of hiring a professional essay writer, you definitely need one if the idea has come to your mind. Life can get overwhelming, and sometimes it is just more beneficial to ask for assistance than keep trying to tackle everything on your own.
Don't Get Desperate
As a student, you must understand that your academic performance hugely determines your future. This is where the importance of custom written papers comes to play: there is too much at stake to blindly rely on unworthy writing services. Always go with a company that guarantees timely delivered custom works. With the assistance of custom essay writers, you can be sure that you will be the owner of a unique, coherent paper that you have paid for. So spend some time doing proper research before placing an order to get good service and useful academic assistance.
Try out our essay writers for excellent, timely service
We offer a special deal to our new clients: every new client gets a 10% discount on your first order. Once you receive your first essay and are satisfied with the quality, we believe you will surely want to come back for more service, just like thousands of our existing clients! So order now and find out why CustomEssayMeister is considered the best custom paper essay service.