Start of the Bundesliga
May 18 marked the last match day of the 2018/19 Bundesliga season. With the new season looming, the clubs have begun making their respective moves before the transfer window even starts. The pre-season transfer window is a 9-week period where clubs may transfer players in or out of clubs. It opens for the German league on July 1 and closes on September 2.
Big clubs—in terms of revenue—are more likely to spend tens, maybe even hundreds, of millions of euros to capture their vision for a top-tier team. League runner-up Borussia Dortmund is no stranger to spending a fortune, most especially this coming season. Having deals that amount to at least €127 million so far, they've earned the top spot in expenditure. With the departure of the American winger, Christian Pulisic, Dortmund needed to find a worthy replacement. Deals for Borussia Mönchengladbach's Thorgan Hazard and Bayer Leverkusen's Julian Brandt have been finalized, ending the search for a new winger. Loaned forward and Dortmund's league top scorer, Paco Alcácer, is staying after the transfer option and deal has been made with FC Barcelona. Defender Nico Schulz of TSG Hoffenheim is also set to join the squad. Perhaps the biggest surprise so far for this coming season is the return of Dortmund's former captain Mats Hummels after a three-year spell with Bayern München. The transfers will be made on July 1.
Fierce rival and current champion, Bayern München, has also shown how deep their pockets are with the €80 million transfer deal with Atlético Madrid for defender Lucas Hernández. This transfer fee makes the 2018 FIFA World Cup winner the most expensive Bundesliga player to date. His international teammate, Benjamin Pavard of VfB Stuttgart, will join the Munich team as well. The transfer of Jann-Fiete Arp, a nineteen-year-old German forward from second division club Hamburger SV, was finalized on February and may join either this season or by 2020. Whether or not the young player will join this season, he will surely be a welcome sight for Die Bayern fans, considering that Arp has been compared to German all-time top scorer Miroslav Klose.
Definitely worth mentioning is recently promoted team RasenBallsport Leipzig, commonly called RB Leipzig. They continue to shock the Bundesliga after they landed on third place last season and qualified for the UEFA Champions' League for the second time since their promotion to the Bundesliga three years ago. RB Leipzig, which holds league distinction for having the youngest average age of players, has a couple of young players arriving this season. Twenty-year-old Hannes Wolf will be transferring from Austrian team Red Bull Salzburg, along with eighteen-year-old Luan Cândido from São Paulo-based club SE Palmeiras B. Having spent at least €65 million for transfer fees last season, perhaps more activity should be expected when the summer transfer period opens.
Title contender Bayer Leverkusen should want to give their all this coming season after finishing fourth place and qualifying once again for the UEFA Champions League. Kerem Demirbay, a central midfielder from TSG Hoffenheim, will be joining their campaign. French Ligue 1 champion Paris Saint-Germain's winger Moussa Diaby and Dutch Eredivisie champion Ajax Amsterdam's left-back Daley Sinkgraven are also moving in at the start of the summer transfer window. This shows that Leverkusen are probably looking for in-form players to help them reach their club's goals.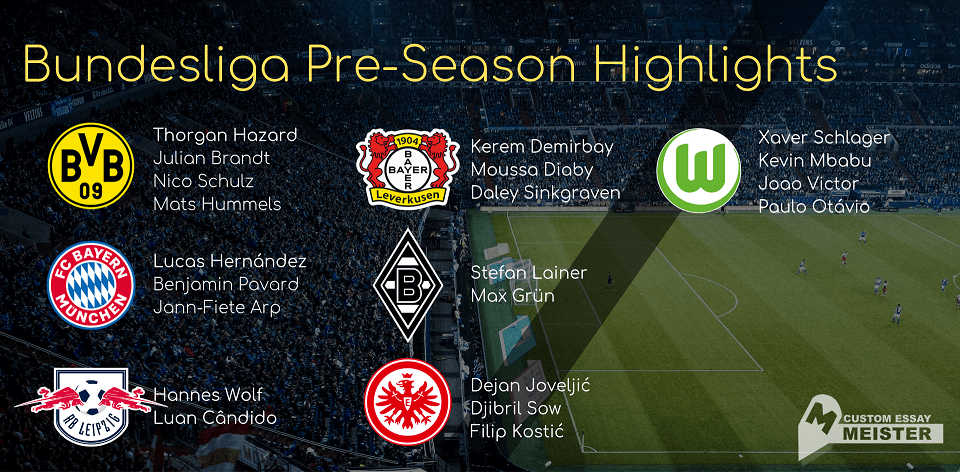 With the departure of winger Thorgan Hazard, Borussia Mönchengladbach has reportedly gained €25.5 million. Being in the green, Gladbach was able to sign the right-back from RB Salzburg, Stefan Lainer. The Austrian international's transfer fee of €12 million earned him the fifth spot (tied with Luuk de Jong and Denis Zakaria) for the club's highest record transfer so far. Arriving with him is thirty-two-year-old SV Darmstadt 98 goalkeeper Max Grün. Fans will have to wait and see if more players will be arriving to play for Gladbach this season.
Speaking of being in the green, SL Benfica loanee Luka Jović was set to permanently join Eintracht Frankfurt after a clause on his contract was triggered with a €5 million transfer fee. Weeks later, Spanish top club Real Madrid signed the Serbian forward for a staggering €60 million. With their pockets filled from the highest transfer fee they've received, Die Adler quickly signed new players such as nineteen-year-old forward Dejan Joveljić from Serbian SuperLiga champion Red Star Belgrade, as well as twenty-two-year-old central midfielder Djibril Sow from Swiss Super League champion BSC Young Boys. Another loanee, this time from German second division club Hamburger SV, is permanently joining Frankfurt. Filip Kostić, a Serbian international, was signed after Frankfurt used their purchase option for the player. With the series of transfers commencing once the window opens, Eintracht Frankfurt will still be holding on to their record of having the most foreign players in the Bundesliga; twenty-two foreigners to be precise.
Notable arrival for sixth-place finisher VfL Wolfsburg is Austrian midfielder Xaver Schlager. The 2018 UEFA Europa league semi-finalist has signed for Die Wölfe following a €15 million deal with RB Salzburg. They've also signed Swiss-born French-Congolese player Kevin Mbabu from BSC Young Boys, along with Brazilians Joao Victor and Paulo Otávio from Linzer Athletik-Sport-Klub and FC Ingolstadt, respectively. With their total expenses recorded to have reached at least €28.5 million so far, perhaps the former Bundesliga champion can prove that they can rise to the top whilst spending only a small fraction of the big clubs' transfer expenses.
One thing is for certain. For the next nine weeks, more transfers will be made. These clubs have made deals in advanced to secure the players they want to help them in their campaign for the 2019/20 Bundesliga season. The moves that will be made within and around Bundesliga shall reverberate once the season kicks off. As the sixth richest professional sports league in the world in terms of revenue and, correspondingly, the steadily increasing paying power of clubs, it is reasonable to expect the unexpected.
Awaiting the developments in this pivotal phase in which Bundesliga clubs undergo necessary rearmament is similar to college students waiting for summer escapes, eager to free themselves from essays, term papers , sports scholarship essays, and research papers that only premier firms like CustomEssayMeister can expertly craft. Like the top Bundesliga clubs ready to pounce on the best signing available, CustomEssayMeister is ready to deliver academic needs.
Will there be more surprises for everyone following their favorite German football clubs? Can any of the clubs top the record €80 million transfer fee? Fans, players, coaching staffs, and analysts alike are eager to find out what will happen next when the transfer window opens on July 1, 2019.