The Dos and Don'ts of Sorority Date Parties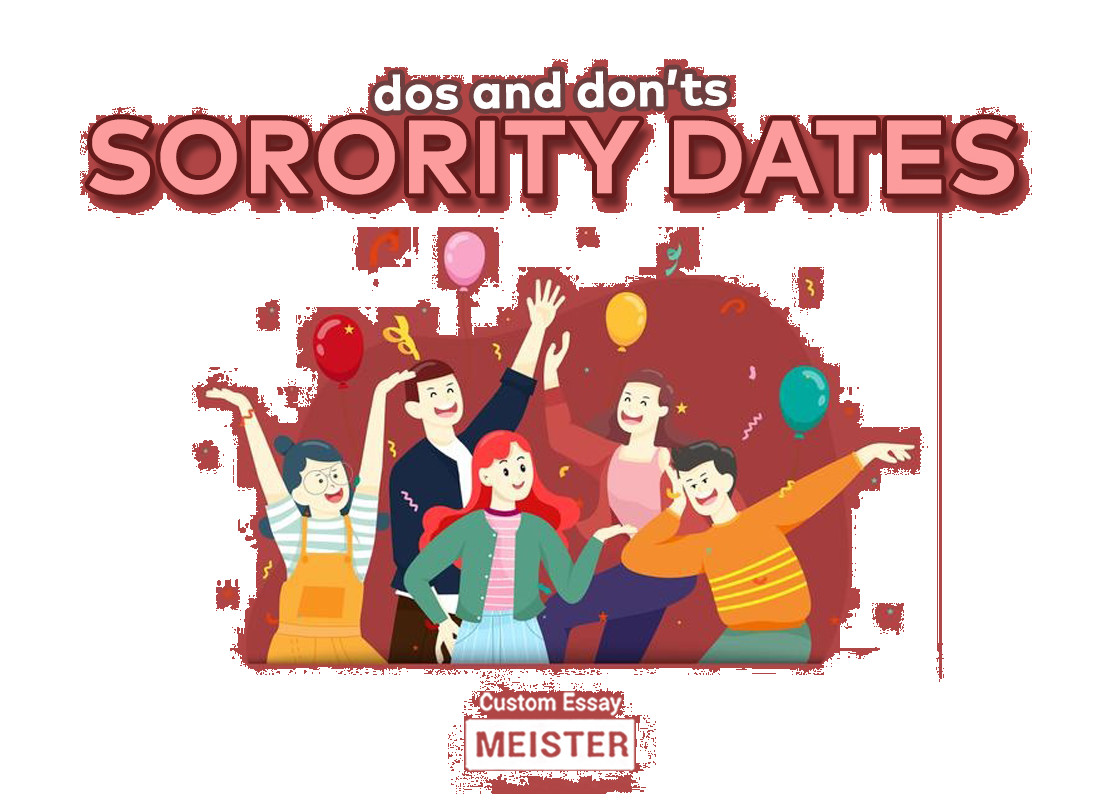 Well, you made it – you passed the sorority recruitment: the endless interviews, walking in uncomfortable shoes, socializing, and doing all sorts of activities. You are now part of a sorority, and being in a sorority entails a lot of perks and privileges, including invitations to exclusive parties. The first party you attend as part of a sorority is most likely the Sorority Date Party.
Sorority date parties, as its name suggests, is a dinner party where you are encouraged to bring a date for a night with your sorority sisters. The venue is usually off-campus, and you have to wear semi-formal attire. If you are someone who is not seeing someone at the moment, then most likely you will have a hard time enjoying this function. You might have to drag someone you just met or just started seeing as your date, which can get awkward. There is an option to go alone, and depending on your sorority, this means you allow your sorority sisters to choose your date for you – somewhat like a blind date. This could be a good thing, but it also means you have to endure another round of making first impressions and small talk with someone unfamiliar to you. If you are lucky, it might hit off to something special. However, that's not always the case.
Sorority date parties require a lot of preparation. It is likely not going to end up perfectly on your first night, but rest assured if you are prepared enough, then you might actually have fun – or at least feel secure that you did not embarrass yourself before the day ends. With that being said, here is a guide of dos and don'ts on your first sorority date parties.
Do wear comfortable clothes
It's your first sorority party and you are required to wear semi-formal attire. It's not something you can typically do at any given situation, so any opportunity for you to dress up and look your best , you make sure you give it a 110%. And there is nothing wrong with that, but you are going to wear that dress all the entire evening. Wouldn't it be best to wear a dress from your wardrobe you will be comfortable in?
There is usually a theme to a sorority date party, but regardless of that, you should make sure your dress is beautiful and comfortable at the same time. Your shoes are of particular importance. Wear shoes that won't hurt your feet if you have it on for too long. Go for clothing that will help you stand out, but won't upset you at the end of the night. Pretty does not have to hurt like what Beyoncé said.
A way to test if your outfit is comfortable and doing its job is by wearing it before the sorority date party. Wear it for a full day at home or to another event just to check if it's okay and comfortable. Do not worry about wearing it again and people seeing you in the same outfit twice. There is no shame in that at all. People do not expect you to throw away your clothes after you wear them once, especially if it is very expensive.
Do go with someone you are comfortable with
Just like your clothes, you have to make sure you bring a date you are completely comfortable with. It does not have to be a romantic partner – you can invite a friend. Nowadays, sororities are not that strict with their rules. They allow you to bring friends or bring no one at all. You can stay by your sorority sisters' side throughout the night and just have fun with them.
You will be sharing a long bus ride with your date, and how you go about it will set the mood for the rest of the night. You are in luck if you can bring a long-time partner or a person you have been dating for quite some time. For some people, finding someone to invite will be difficult. However, do not feel any pressure to bring a romantic date. You want to end your night with fun and look back on the details without cringing. What better way to do that but by having fun and being surrounded by people you love, no matter romantically or platonically.
Bring someone who can support you and will be able to encourage you. You want someone to be there for you when things are not going the way you want them to be for emotional support. Whomever you bring, make sure they make things better and not worse.
Do not drink too much
It's common for a sorority party to have a bit of alcohol in the mix. College drinking culture is embedded in every college social event. In a sorority date party, there will be beer or wine for you and your date. However, since it is a semi-formal dinner then you are still obliged to be on your best behavior.
Be mindful of your alcohol intake throughout the party. If you know yourself when you are drunk, then you might want to steer clear from it or have a little bit to lessen inhibitions. Make sure you leave a good impression to your sorority sisters and their guests. Show them you can have fun, but not to the point of embarrassing yourself.
Do not stress yourself out
A sorority date party could be something you have been looking forward to ever since you decided you want to join a sorority. That means you have been preparing over this one particular night for months or years already, and you want everything to be perfect. That on top of other academic priorities might leave your burnt out and tired for when the night comes. You want to enjoy your date party, and all that stress will hold you back from doing so.
Before your sorority date party, pamper yourself with a trip to the salon and get a massage. Do activities that will help you loosen up. Date parties are meant to be fun and a way for you to enjoy a weekend with your sorority sisters and their loved ones. Let your first sorority date party experience be filled with good memories and relaxation.
Do not go unprepared
You have to plan, not just about the sorority date party, but also when it comes to coursework that will coincide with it. You have to be conscious of all the paper you need to pass or exams you need to review for that might affect how you enjoy the party. Make sure you have everything in place and ready to pass before you go to a party.
Keep a planner with you at all times and pencil in every important detail you need to be mindful of. Being a student should be a top priority and your sorority have to come in a close second. It can feel like being in a sorority is a full-time job, so you have to be on top of your coursework and extra-curricular activities . It is not going to be easy, but you will get used to it eventually. You want your university years to be filled with good memories, and not of those where you were lacking as a student and a sorority sister. When you're always prepared, you will look back at memories with no regret. Let the good times prevail over the bad.
Need help with your coursework?
You will have to dedicate a lot of time with your sorority, and that's okay. You have spent so much effort and money getting into your sorority; you do not want it to go to waste just because you chose to prioritize one over the other. Especially when you are required to maintain a GPA to avoid getting dropped from the sorority at the same time you need to show your absolute devotion and involvement to your sorority house through philanthropy and other activities. Luckily, CustomEssayMeister might be able to help you. Our expert writers can write custom essays, custom term papers, custom research papers, or proofread and edit your work. You are not alone in your journey to leaving a mark in your sorority and university – CustomEssayMeister will be here for you. Contact us for any questions, and we would gladly assist.