How to Write Your Business Plan
Learning about business is a tough endeavor. An owner or manager needs to not only ensure the profitability of the business; he or she also needs to ensure that the business remains resilient and adaptable to the many internal and external factors that influence it. Those who wish to venture into business are therefore required to practice by way of writing this project.
But writing a business plan can be challenging. A lot of research and analysis goes into this process, and writing the paper itself requires great effort, especially if it is your first time. But this does not mean that you cannot make it easier. With these tips, you can learn how to write a business plan that will make your professor think you have been doing it for years.
Business Plan Defined
So what is a business plan? A business plan is a document that presents the strategies a company will implement to achieve specific goals and objectives. In its basic form, it describes the company's operations including products and services, identifies the industry it belongs to and its target market, lays out its goals and objectives, and presents the company's overall plan for achieving them. This project is written as part of the requirements for students of business or related fields like marketing, finance, and management.
The content of a business plan depends on the instructions provided. Some plans are written as proposals for new businesses. Others are written for existing businesses facing new problems and issues. Since a plan typically focuses only on one company, it is in some ways comparable to a case study . Regardless of the instructions, expect this assignment to involve a lot of research and analysis. The next section offers tips on how to create this project.
Tips for Writing a Business Plan
Creating a business plan is no easy task. Most professors will probably tell you that almost every student struggles with this assignment the first few times. But as with most other undertakings, practice makes perfect. This does not mean, though, that you cannot make the task less daunting. These tips will help you increase the quality of your output.
Tip #1. Know your tools
Analyzing information is a difficult but vital part of writing a business plan. Fortunately, there are tools at your disposal that can help you perform analysis in a more organized and effective way. Such tools serve specific purposes, which means you need to know what they do in order to use them correctly. Some of these tools include the following:
Business Model Canvas
The business model canvas is a tool used to provide an overview of the entire business model. Accomplished in a single chart, this tool helps you quickly identify the elements of a business such as products and services, resources, customers, revenue sources, and expenditures among others. Knowing what is a business model canvas is invaluable to writing a good plan.
SWOT Analysis
SWOT stands for strengths, weaknesses, opportunities, and threats. This tool is used to analyze the internal and external environment; that is, the factors that exist within and outside of the company that have an effect on it. Knowing how to conduct a SWOT analysis is a good starting point for learning about the other tools.
PESTLE Analysis
PESTLE analysis is a tool used to analyze the external environment. More specifically, it looks at the political, economic, social, technological, legal, and environmental factors that affect a business. As with SWOT, knowing what is PESTLE analysis and how to perform it is fundamental to understanding business.
Porter's Five Forces
This tool is used to analyze the relationship and power dynamic between a business and its customers, suppliers, and competitors. It is also used to assess the tightness of the competition between companies operating within the same industry. Knowing what is Porter's Five Forces is useful if you want to determine your power in relation to industry stakeholders.
Marketing Mix
The marketing mix is a set of tools that businesses use to successfully bring a product or service to their customers. This tool is used to determine how products are priced, promoted through different channels, and brought to customers. Learning what is a marketing mix is also crucial to developing strategies for your company's operations.
These are just some of the more common and basic tools that businesses use when analyzing data and formulating strategies. There are other more advanced ones, such as the BCG matrix, value proposition canvas, and STP (segmentation, targeting, positioning). These tools offer guides, models, and frameworks that can help you conduct business analysis faster.
Tip #2. Stay objective
Another tip for writing this project is to stay objective. Formulating strategies relies more on making sense of data and critical thinking than employing emotions. While being keen and possessing good intuition are certainly helpful, employing objective reasoning and logic is still the way to go. In the same way, avoid using emotional language in your paper. This is a formal paper meant to imitate actual plans submitted to stakeholders (e.g., executives and officers).
Tip #3. Stay realistic
Being realistic is important to writing a business plan. Remember that a company operates in the real world, which means that your plan is situated within the context of the real world, too. Therefore, you should avoid unrealistic content. For example, if your enterprise is small and local, then your goal should be according to this scale. Your professor will not grade you for the height of your dreams or ambitions; he or she will grade you for the soundness of your analysis and strategies.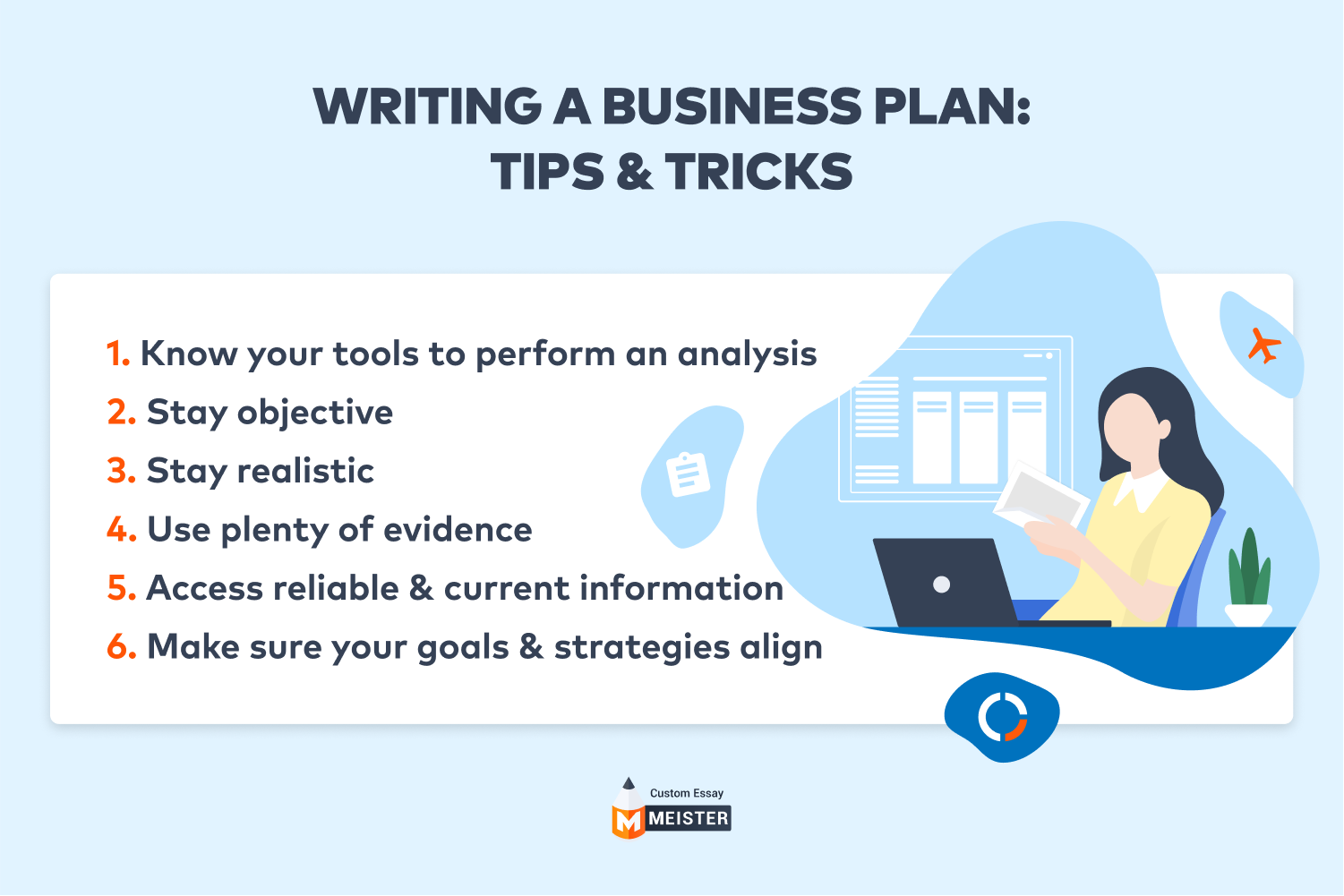 Tip #4. Use plenty of evidence
Apart from being realistic, your plan also needs to be supported by plenty of evidence. Your paper cannot rely on assumptions alone. There is a reason why real businesses conduct extensive research. For example, assuming that your company produces meat products, you need to justify why you believe they will be attractive to your target market. Without proper research, you might find yourself selling meat products to a market that does not consume meat in the first place.
Tip #5. Access reliable & current information
The quality of evidence is just as important as the quantity. Remember that the global market is ever-shifting: new products and services are launched all the time; consumer tastes change; laws and regulations change; research and development yield innovations; etc. So make sure you are using reliable and current sources of information. Check the credibility of your sources and determine if their contents remain relevant to the present.
Tip #6. Make sure your goals & strategies align
One of the most common errors made by students is failing to align their goals and strategies. Goals are the milestones you want to reach; strategies are the means to reach those milestones. Therefore, your strategies should be appropriate for your goals. For instance, if your goal is to expand your market share , then your strategies need to focus on marketing such as by coming up with promotions. Concentrating on marketing is more relevant here than restructuring your organization. The key to aligning your goals and strategies is knowing the different parts of your business and their respective roles.
Traditional Business Plan Format
There is no single fixed format or business plan template; rather, the format depends on what the instructions require. Scope, complexity, and depth all influence the format. A plan may go from being a simple business plan outline with a few sections to being a highly detailed business plan with lots of main sections and subsections.
The content may also vary depending on the type of plan being made. A startup business plan will likely offer a focused discussion on the company's operations while a plan for an established company will likely focus more on current conditions, challenges, and solutions. Some of the sections you can expect to write are the following:
Executive summary . As the term itself suggests, this section presents a concise summary of your business plan. It should present the most essential and important points, and going through it should give the reader the general idea of your plan. This part should not exceed one or two pages. Think of this section as the equivalent of an abstract for a research paper. Because it is a summary of the entire project, it is usually written last.

Company description . This section presents relevant and important information about the company. Some of the basic details you need to include are the name of the company, the type of ownership or legal entity, its history, the industry it belongs to, and information on its presence. For example, is the company in the manufacturing sector, retail, finance, or some other industry? This section should give your reader a clear picture of what the company is and does.

Products & services . The next section should feature the products or services. In other words, you need to describe what it is that you offer your clientele. Note that there is a difference between product and service. Product refers to a physical good, such as food, clothing, or tools and materials, while service refers to something that provides intangible value such as a haircut or a consultation. It is not uncommon for this section to be included in the company description.

Vision, Mission, & Objectives . The next section provides an overview of the mission, vision, and objectives as well as other salient points that drive the company's operations such as values. In a nutshell, the vision is a short statement expressing what the company wants to achieve in the future, the mission conveys what the company will do to attain the vision, and the objectives are the milestones for the vision. As with products and services, this section is also sometimes included in the company description.

Market description . This section presents in-depth information on the market that the company targets or serves. In this section, you need to identify this market and justify why it is your clientele. For example, is your market the general public or a more specific demographic group within a defined geographical area? Why do you think this market would avail your products or services? What needs of this market do you meet? Knowing market segmentation will help you identify and discuss your market.

Industry description . This section provides a more in-depth discussion of the industry in which you operate. In particular, you should describe the nature of the industry, your main competitors, your suppliers and buyers, and factors that influence your industry. A lot of your discussion in this section can be generated by tools such as Porter's Five Forces, which analyzes the competitiveness of the industry, and PESTLE analysis, which looks at external factors.

Business model . In this section, you present how the different components of your business all fit together. In particular, you will explain how your business will generate income. You need to identify who your clients are, what product or service you offer them, how you produce these offerings, who your affiliates are, and how you gain and spend funds. Including a suitable business model template such as a business model canvas is an excellent way to simplify the discussion for your reader. The business model section is one of the most important in your project.

Management team . This section discusses the organizational structure of your business. Identify the people who make up your company. A plan for a small business may show all the employees from top management to frontline staff. But for bigger companies, focus on key positions and decision-makers and the divisions that they manage. Include an organizational chart in this section to illustrate the organizational makeup and hierarchy.

Sales & marketing . The sales and marketing section explains the marketing projects and strategies you will implement to advertise your product or service. Marketing is an essential component of business operations since it is responsible for bringing awareness of your offerings to clients and convincing them to use or purchase. You need to present here how you are going to do just that. Marketing mix is an important tool in discussing this part.

Operations . This section explains the vital activities that your company does in order to deliver its offerings to the clients and general income. For example, if you are in the retail or manufacturing industry, you will likely discuss elements like locations, assets, tools and equipment, research and development, and logistics among others. This part may also involve your company's impact on society and the environment. For example, does your business generate jobs? Is it sustainable and does it use green technologies?

Financial analysis . The financial analysis section presents your costs and revenues. This section should identify where your initial capital will come from, where your capital and future revenue will go (cost structure), and where your revenue including profits will come from (revenue streams). This section should also include realistic projections for the first few years. Three of the most useful financial statements here are the income statement, cash flow statement, and balance sheet.

Appendix . The appendix features documents that contain important information otherwise too big or too distracting to include in the main paper. For example, more detailed explanations of market research may be included here as well as mockups of advertisement materials among others.
There is no single format for this project, but a traditional business plan will likely feature these sections. When making your project, the key is to read the instructions carefully and consider the specific details of the company you are writing about. Each plan should be tailored according to your project's specific requirements. The discussion above should give you a basic idea of what your paper will contain.
Deadline Approaching?
We work 24/7 and we are affordable (from $13.95/page). Our writers, managers and support agents all have been involved in academic ghostwriting for years. We can assist even with the most difficult writing assignment under time constraints.
Our writers will hit the bull's eye on your project!
The paper will be delivered on time!
100% authentic writing! No plagiarism!
Fast & secure ordering!
place an order
Lean Startup Plan
One type of plan that has been gaining popularity is the lean startup plan. As the term suggests, this type of plan strips away much of the discussion and instead focuses on the business model, hence it being called lean. This plan is suitable for small local businesses since such a startup does not require that much research compared to a medium or large company.
The basic elements of the lean startup plan correspond with that of the business model canvas. These include: the value that you propose to bring to your customers; key partners that work with you such as suppliers; key activities that run the business; your most vital resources; your customer segments; the types of relationships you have with customers; the channels through which deliver value; the costs you incur; and the revenues you generate.
A lean startup plan is much shorter than a regular plan. But it does not mean that it is easier to make. This project needs to be concise, which means the discussion must show precision. Learning how to make a lean plan takes time. In fact, it will be better to learn how to make regular plans first before shifting to making lean plans.
Business Plan Examples
Because this project is long and complex, learning how to make it requires more than just reading guides. You will also need to look at samples. Samples show what complete plans look like. You can learn a lot about what makes an excellent plan by examining how the examples are written, from the format that they apply and the outline they use to the types of evidence utilized and the depth of discussion. Think of studying business plan examples as a sort of reverse engineering. Below are some samples you can check to learn more:
Sample PESTLE Analysis – This sample on the luxury company Dior is not a complete business plan. But it offers you excellent insight into how a PESTLE analysis can be used to examine the external factors influencing the industry that the company operates in.

Sample SWOT Analysis – This sample SWOT analysis on the apparel company Zara provides a demonstration of how internal and external factors influence its operations. As noted, SWOT analysis can be integrated into sections such as market description and industry description.
Conclusion
No one ever nails a business plan the first time. Your professor will likely find errors in your paper as well as room for improvement. But identifying your mistakes and improving on them is the purpose of writing business plans. You will learn to write better papers each time you are assigned a new project. Make sure you follow these tips to accelerate your progress.
Business Plans by CustomEssayMeister
Writing business plans is the best way for you to learn how to manage a business and formulate strategies. But while this is a vital part of studying business, there may be times when you cannot accomplish this task. Life for students is becoming increasingly tougher. Schools are assigning too many projects and students simply can no longer cope, let alone focus on time-consuming tasks like learning how to make a business plan. But help is available.
CustomEssayMeister is the best custom writing company on the internet. We employ professional writers who are experts in various fields including business, finance, and organizational management and leadership. For over a decade, we have helped thousands of customers around the world complete top-quality business plans. All you need to do is to place your order on our website and provide instructions. Our writers will do the rest as you lay back and relax. Try our services now and see what makes CustomEssayMeister a trusted service for countless students.