Essays vs Research Papers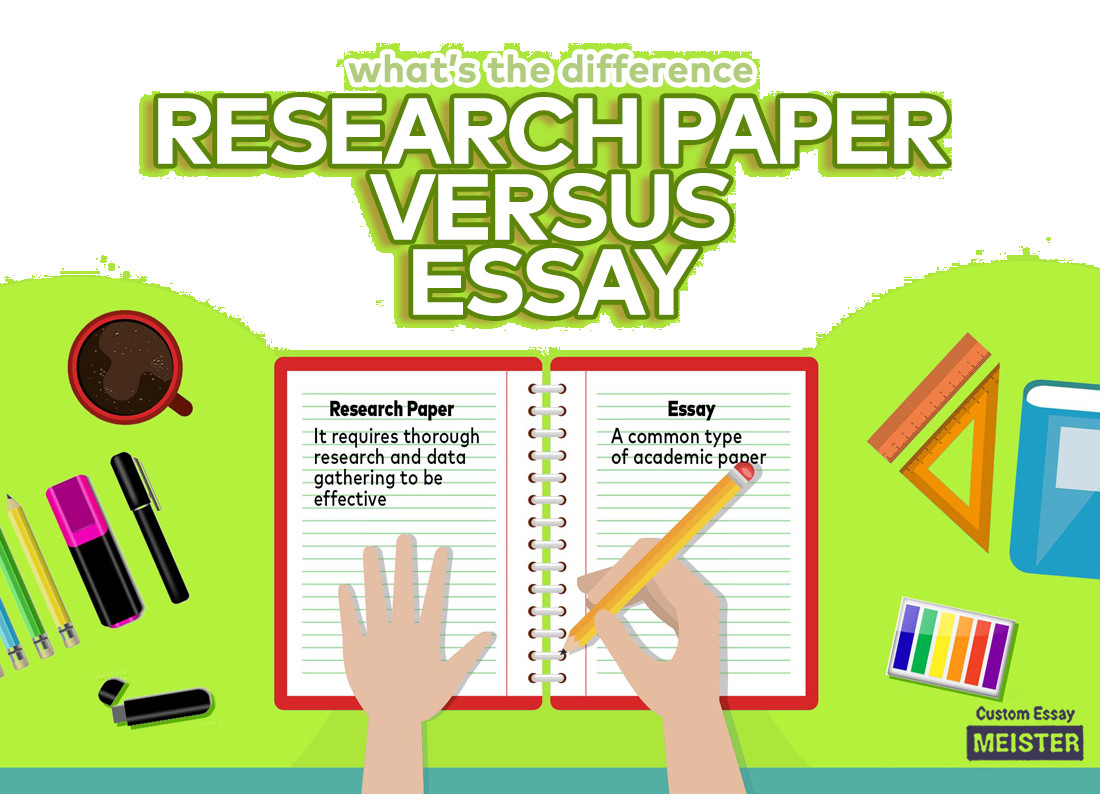 It's easy to confuse one academic paper with another if you are overwhelmed with so much schoolwork. There will be instances wherein you will mistake a book review for a book report , but upon further inspection, you notice their differences. If you find yourself perplexed and struggling to determine which academic paper is which, sorry to say, but there is no easy way out of this but to familiarize yourself with the many types of papers you will be required to write throughout your education. Academic papers are staple class requirements from high school through college. You will be required to write essays, research papers, term papers, book reports, and many more. The ability to distinguish what writing style or how to write each academic paper is necessary to navigate your way through college with ease.
Research papers are by far more complicated to write than essays, but both academic papers are easy to differentiate from each other. This post will explain the differences and similarities between essays and research papers.
Essays
What are essays?
Essays are the most common form of academic papers. From grade school, you have been required to write an essay more than once in a school year. Teachers often require their students to write an essay to gauge their understanding of a certain topic before or after the discussion – they even include them in exams. Essays are short compositions, and depending on the prompt given, an essay can only have five or more paragraphs. In writing essays, a student's reading, writing, and comprehension skills will be put to the test. Essay writing is more inclined with creativity as opposed to formal writing which research papers require.
How to write an essay
How to write an essay should not be too hard since most of us have been writing essays for the majority of our time in school. But just to be sure, here is a refresher on how to write an essay.
Research. You can argue that an essay is not a research paper, so why research? Well, every academic paper should be reliable and factual, meaning those who write them should be well-versed with the prompt or topic they will write about. The research process will influence your perspective, giving you a chance to take a stance and write with merit and a complete understanding of the topic at hand.
Make an outline. Organize your thoughts by categorizing the main ideas accordingly. The outline will be the skeleton of your entire essay, and the necessary parts are the introduction, main body, and conclusion.
Write it down. Once you have your essay all figured out from your initial outlining, it's safe to write down all the thoughts and ideas you want to discuss further. Utilize the research you conducted, and let your ideas flow into the paper with ease.
Edit and proofread. If you are satisfied with the essay's first draft, you can start reviewing and revising your essay. Look through each paragraph to check if you have any mistakes or incomprehensible arguments. Furthermore, also proofread your work to check for the superficial mistakes that might cost you a high grade.
What are the types of essays?
Teachers will require you to write an essay for different reasons. One reason, as mentioned above, is to gauge your knowledge of a certain topic, along with your writing prowess. Furthermore, there are different types of essays that each serve a certain purpose. Nevertheless, all of them follow a similar structure, which includes an introduction, a thesis statement, the body paragraphs, and a conclusion. The major types of essays are:
Descriptive essays – an essay that requires you to provide a clear description and illustration of an object, a person, or a story.
Narrative essays – an essay that details a person's experience through a written narration.
Expository essays – an essay that requires a balanced and thorough analysis of a topic.
Additionally, there are also:
Definition essays – an essay that offers an extended definition of a word.
Diagnostic essays – a type of essay that is written within a limited amount of time to test a writer's capabilities on the spot.
Reflective essays – an essay in which a writer reflects and examines their life experience.
Persuasive essays – a type of essay that uses logic and reason to convince readers that the writer's point of view is legitimate. Also known as argumentative essay.
Response essays – an essay wherein a writer can express their reaction or opinion of a certain book, paper, movie, or any other work. Also known as reaction paper.
Scholarship essays – an essay written for the sole purpose of receiving a scholarship in college.
Research Paper
What is a research paper?
One of the many differences between essays and research papers is that a research paper focuses more on the collation of logic and information from supplementary studies and materials to discuss a particular topic while an essay relies more on the writer's perspective and opinion. As its name suggests, a research paper requires thorough research and resource gathering to be effective. A research paper has three major features:
Thesis statement. Much like any other academic paper, a research paper has to have a thesis statement which will be the main idea and claim of the paper.
Evidence from research. An ideal research paper has to present legitimate information from different sources. All the information you gather from studies and articles will be used to prove, support, and defend your thesis statement.
Original discussions. To further support your research paper, the evidence you gathered will be helpful to your discussion. Simply presenting the evidence is not enough – strengthen your paper by providing your own analysis and insight into your sources.
How to write a research paper?
Among the similarities of essays and research papers is how you go about writing them since both are academic papers. However, the process of writing a research paper requires a lot of attention and rigor compared to writing an essay. Writing a research paper is more deliberate, considering the length and information you have to include in the paper.
Research and gather sources. Of course, when you write your research paper you need to read and collect as much information as you can about the topic. To write your paper properly, you must possess sufficient knowledge about your topic. All the materials you gather will play a role in shaping your overall research paper. As you read them, make sure you keep track of all the necessary information or quotations that will help support your thesis. There are many physical resources available in libraries or you can also collect sources from educational search engines and other online government or independent publications. Newspapers can also be a dependable source of information. Take note of the author and their credentials, see if they are reliable before including them in your paper.
Make an outline and write your research paper. Before proceeding to write the research paper, you will need to outline it. Organize your data according to which information goes where. Your research paper should have all the important elements of an academic paper, including the thesis statement. From your thesis statement, you can devise an outline that will divide your main points into subheadings to further strengthen your thesis.
Cite your sources. This has to be the most important part of writing a research paper. Although this could coincide with the entire writing, it's vital to remember to cite quotes and credit the authors of the literature you want to include in your paper. Make sure your citations align with the format your professor requires (i.e. MLA, APA, Chicago, or Harvard style of referencing). Citing your sources will make sure your work is plagiarism proof.
Edit and proofread your first draft. No one is expecting your initial work to be spotless. On your first draft, let your creative juice flow – don't worry too much about grammar or spelling mistakes. You can start editing your paper once you are satisfied with its overall content. In editing, you will restructure sentences and paragraphs until you are satisfied with how it fits in your research paper. In proofreading, your focus will be on technical errors.
What is the purpose of a research paper?
Research papers are usually written to fulfill a major class requirement. Everyone in college, regardless of their program, will be mandated to write a research paper at some point in their academic life. Research papers will give instructors a chance to look over what a student may or may not have learned within the term or semester.
Essay vs Research Paper
An essay and research paper are two very different academic papers. Writing an essay, depending on what type, will invoke you to think within your domain. It appeals more to your mental and emotional capabilities as a writer rather than logic and information from external sources that a research paper requires. While an essay can be fulfilled in five or more paragraphs, a research paper can be more than eight pages depending on how much information and discussion it contains.
One of the similarities of an essay and research paper is that both can be a term paper . A term paper is a class requirement that is typically submitted at the end of the semester. Your professor or instructor will decide what kind of term paper you will submit and it can either be an essay, a research paper, a journal, or even an article, so long as it gives an overview of everything you have managed to learn over the semester.
Custom academic paper services for college students
We understand the demand and heavy workload being a college student has on everyone. You can be writing an essay right now, but have to finish a research paper later. When you are overwhelmed with so much work and studying, it's hard to keep track of it all – for the most part, you will have a hard time prioritizing each task. If that's the case then maybe you need to start asking for help? CustomEssayMeister's academic writing service boasts of writers who can take a bit of weight off your shoulders in the form of all-original, plagiarism-free custom written papers. Let us know what academic paper you need help with and we will find a suitable writer for you right away. Our services include custom essays, custom research papers, term papers, case studies, and other academic work. Our Support Team is always online for your inquiries and questions!