How to Format your Dissertation Proposal
A dissertation is the concluding academic requirement for a student to acquire a degree. Dissertation writing mainly aims to ensure that one has the ability to put into practice all the concepts and theories he or she obtained in the course. Essentially, the goal is to take an opportunity to study a topic using the theories learned, and guarantee that students are able to deliver a rigorous research paper, which data was gathered first-hand.
But, where to begin writing a dissertation?
The Dissertation Proposal
A dissertation starts and ends with research. It does begin with penning down the introduction of the subject for study, but rather with noting the key areas feasible for an extensive research - this is where your dissertation supervisor or research adviser comes in. Your academic supervisor needs to determine which topic is the most appropriate for dissertation writing as well as assist you in writing your dissertation. Basically, your supervisor oversees the flow of your study as well as help you determine which methods are best for your study, what kind of information you will need, and aid you in gaining access to those information.
A standard dissertation proposal format contains the following sections, unless your university requires you a different format:
I. Working Title
A working title, simply put, is your initial title and is meant to change (a couple of times) as you discover new information in your study, nevertheless, your working title must be specific and clear as to what the premise of your dissertation is. A working title can run up to twenty (20) words because it should contain the key elements of your dissertation. Generally:
The subject area or topic interest (Who and/or what will be the main topic?)
The specific type of study (Is it a Public Relations Campaign? A documentary? Note that it does not have to be specified if you are writing a conventional research study)
The scope of the study (The research locale)
For example: "A Documentary: The Perception of the Children of Local Farmers in the Philippines about Rice Farming as a Career"
This type of working title format is limited to general qualitative, quantitative, and mixed methods research only. There are other dissertations which may ask for a different format - for example, nursing research studies may require the researcher to utilize the Problem/Patient/Population – Intervention – Comparison – Outcome (PICO) framework for a research question, consequently affecting the working title. Note that each element of a dissertation depends on your educational course.
II. Introduction
You only need to keep five elements in mind when writing the introduction of your dissertation proposal, however, you need to deliver it so well because this is indeed a proposal and you should aim for approval.
Topic. Like any other academic paper or report, you have to introduce your topic in a general view. Stick to factual statements and ease into the aim, specific research objectives, and research questions of your dissertation.
Aim. It is indeed confusing to segregate the aim from the objective because, they are so closely related, yet very different too. Just remember that the aim is the description of what you wish to come up with by the end of your study.
Objectives. The objectives present the details of your research aim. The research objectives is like the shredded pieces of your aim, and act like the key stones you need to turn to achieve your aim.
Research Questions. Now, this is the most crucial element of your dissertation proposal. Your research questions represent the entire proposal because these are the actual questions which you are seeking answers for. If these questions have been addressed before by previously published studies, then it is more likely that you will be asked to revise your questions or overhaul the concept and re-angle it to a barely tapped area of research. Research questions are the classic "How" questions, meaning, your questions should be able to stir up explanations and justifications. Furthermore, your research questions should lead to addressing your research objectives, and meet the aim of your dissertation.
Rationale. The research rationale is the enumeration of the reasons why you think your research topic is significant and is beneficial to either the academic research realm or any other industry, or to your respondents.
III. Initial or Preliminary Literature Review
Most students will shudder to the fact that you need to provide a literature review immediately even if you are just working on a dissertation proposal because, let us face it, writing a review of related literature is intense. However, note that the literature review for a dissertation proposal is not as extensive as the literature review you will write for the full dissertation. Still, you need to find major scholarly sources that are directly related to your research questions. Whatever you write in your preliminary literature review should be able to justify the need to address your research questions. There are billions of research materials available physically and online, so choose the ones which content is full of information that are directly related to your research topic.
IV. Methodology
The methodology part is the reason why you need not to worry about the preliminary literature review, because the research methodology you are going to discuss in your dissertation proposal is just as crucial as your research questions – why? Because the methodology is the research tools you will utilize to find the answers to your questions, hence, the data-gathering method or technique you choose must, at all costs, fit your research questions so perfectly, that the panel would agree with you that you can indeed find answers to your questions. You cannot simply enumerate that you are going to use, for instance, survey forms and scalable questionnaires to address your research questions without justifying its relevance to the study. Also, you cannot just describe the advantages or disadvantages or any other descriptive details of various research methods in your dissertation proposal, because your panel are well-aware of it. What they would like you to discuss is how you will tailor a specific research method to acquire the data you need to address your research questions - basically, explain why you think your data-gathering technique works best in consideration of your research questions.
V. Timetable
A timetable is just as simple as the time management plan for your research. The best tool to present your research timetable is a Gantt Chart. For example, you are projecting a six-month long research process duration from the initial step to final defense - you have to divide the months or weeks within those months in a table and enumerate the activities you are aiming to accomplish within a target week.
In summary, a dissertation generally has one minor discussion and four main sections: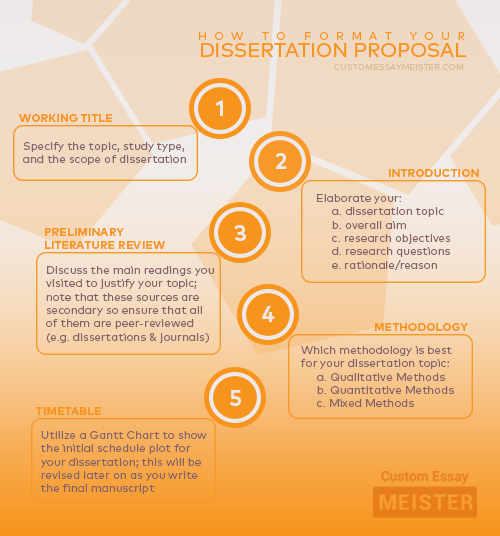 Note that a dissertation proposal does not have to have a conclusion, but you can utilize a summary paragraph in the end just to wrap up the document.
Dissertation writing help
Dissertation writing pertains to not just the literal writing that you will carry out but rather all the processes involved from start to finish, all of which are heavily imbued with research. In the infantile stages of dissertation writing, it entails one task that has no room for errors – dissertation proposal writing. It is the pillar on which the weight of your entire dissertation rests. The sensitive nature of writing a dissertation is the primary reason why an enormous amount of time is given by professors. While the presence of your dissertation supervisor certainly boosts your momentum as you go deeper into the dissertation, several real-life factors may serve as hindrance: work, other academic commitments, personal life, and lack of time. If the presence of any of these factors hampers you, the practical move is to purchase dissertation writing help from an online ghostwriting academic service like CustomEssayMeister. Manned by highly qualified professional academic writers, be assured of topnotch work, fruitful correspondence, and alleviation of pressure in this crucial chapter – have a writer and a dissertation supervisor all at once. Make sure to notify us about the specifics before you order.